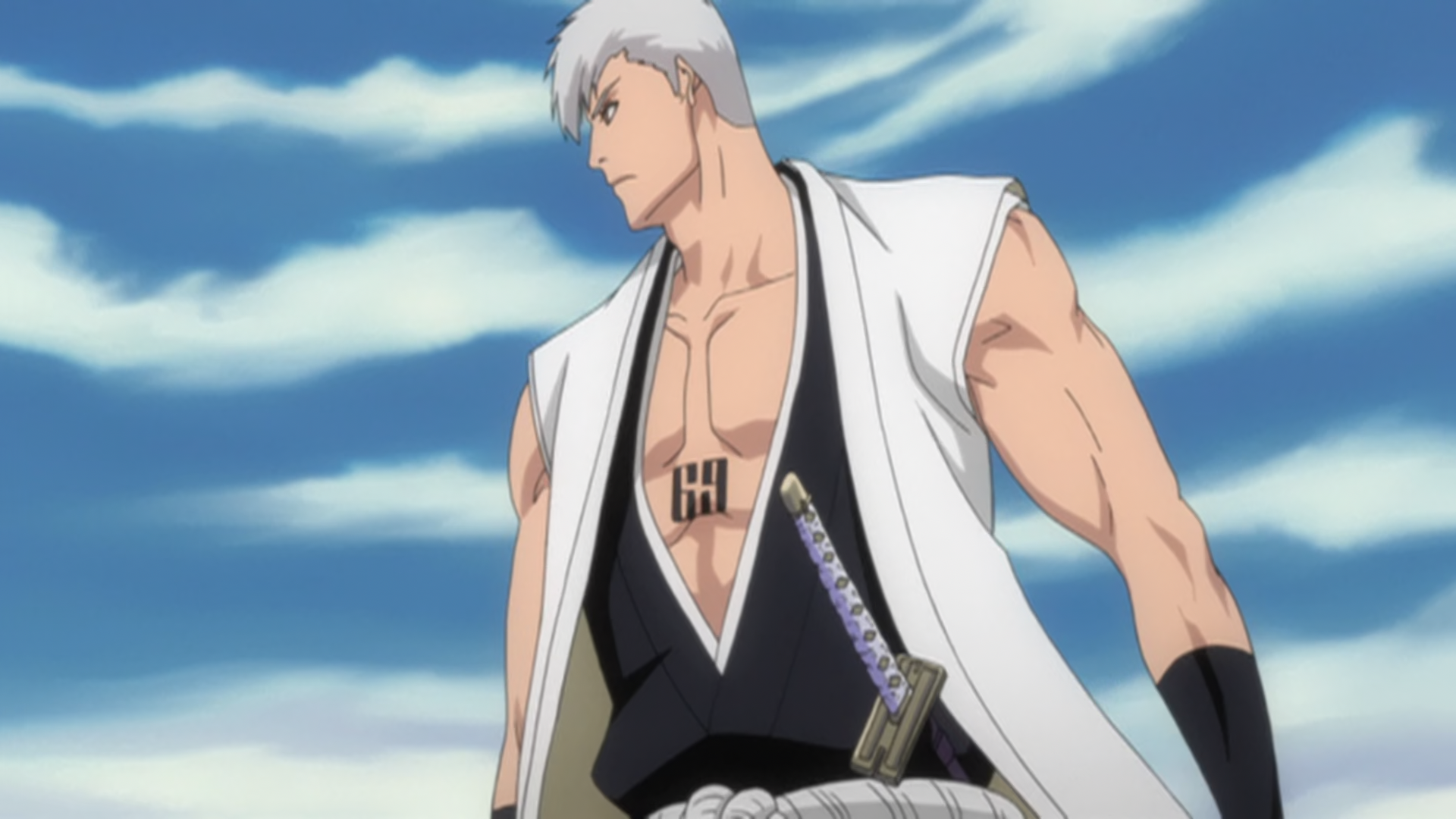 Name:
 Kensei Yamazaki
Age:
 21
Village:
 Kumogakure
Clan:
Yamazaki
Kekkei Genkai:
 Combination Justu with ninken.  Use ninja dogs, both companions and summons, in fights to assist clan members.
Affinity:
 Water
Appearance:
 Although Kensei likes to think of himself as an outgoing and social member of Kumogakure, to some people, his appearance can seem intimidating.  His rigid and well toned muscles are usually the first thing people will notice about him, including his jaw.  However, after they take a look into his cool and calm blue eyes, their fears about Kensei's appearence are soothed.  His face is framed by his short white hair, which is admired as being quite soft.  The only change to his natural slightly tanned skin is a small tattoo lying just below his sternum that reads "69".
Kensei's usual attire consists of a black undergarment like shirt, and a white overcoat, ordained with symbols relating to his village and his clan.  Both sets of coats are sleeveless, allowing him a full range of motion and showing off his well defined muscles.  His coat and shirt allow him to expose a portion of his chest as well, and descends only to his waist, where his daily wardrobe is finished by a pair of black pants and sandals.  Although his headband given to him during his academy days is normally hidden, it can sometimes be seen around his upper left arm, just under white coat he wears.
Personality:
 Kensei is one of the most outgoing members of Kumogakure.  As a rising leader within the village, he often feels a sense of loyalty and importance while talking with both residents of the village and working shinobi.  His loyalties to his clan often make him very comfortable with animals, and in particular, dogs.  As a very friendly and social individual, he thinks of his friends and his fellow shinobi highly in his mind, willing to do almost anything in order to protect them.  
At the same time, Kensei is extremely dedicated to the betterment and success of Kumogakure.  He takes it very personally sometimes when a mission or an initiative in the village that he was a part of did not pan out, and will often work even harder afterwards to ensure a positive outcome.  While intelligent and fairly strategic, he also has an insatiable curiosity, which can sometimes affect what most would consider to be an easy decision.  However, he often tries to redirect this curiosity towards a particular skill that he needs to improve on, or preparing a new jutsu to his arsenal.  
Finally, for one of his more noticeable quirks, he often will be seen with some of his dogs at night, trying to become one of the members of the pack.  This behavior often consists of roof hopping at night, and watching the moon and the stars.  Although his howl has been a bit out of tune, he has been working on it for quite a while!
Background:
 Kensei was originally born to a shinobi father and civillian mother in the humble village of Kumogakure.  As a member of the Yamazaki clan, his first few days were occupied with being near an infant pup, but were tarnished by the clan welcoming in a civilian into its compound of homes.  While Kensei was trained like a promising shinobi, he was always looked at with a particular gaze, as if he didn't belong.
This pushed Kensei even harder to be welcomed by the rest of his village. Unwavering, he worked everyday to improve his skills through training, missions, and developing his relationships with villagers.  Eventually, his father moved his family outside of the compound to avoid the harsh looks of his cousins, but they continued to be involved in clan life.  
Kensei was shining to be a rising star within the recruiting class of ninja at Kumogakure.  His father then began to teach him the techniques of his kekkei genkai, and he soon began to grow closer and closer to his dog companions.  Tales of former sages of animals and their synergy with their partners and the natural energy filled Kensei's head, and he vowed to become the next sage of the dogs.
Stats:
Kensei Inuzuka - Kumogakure - Genin
Chakra: 1,000
Bukijutsu: 0
Taijutsu: 500
Speed: 250
Strength: 250
Chakra Control: 1,000
Ninjutsu: 500
Genjutsu: 0
Kekkei Genkai: 500
Sample Chapter:
 This is your very first piece of writing for the roleplay. This can be about almost anything you want: your character's graduation ceremony; their first meeting with their three-man squad; a stroll through the village they've dedicated themselves to protecting; them having a drink with their mentor. This is simply a gauge of your writing skills.
It's important to note that all writings are written in the third-person narrative. This doesn't include dialogue---only everything else. This must be at least 500 words, though, you can make it as long as you want.